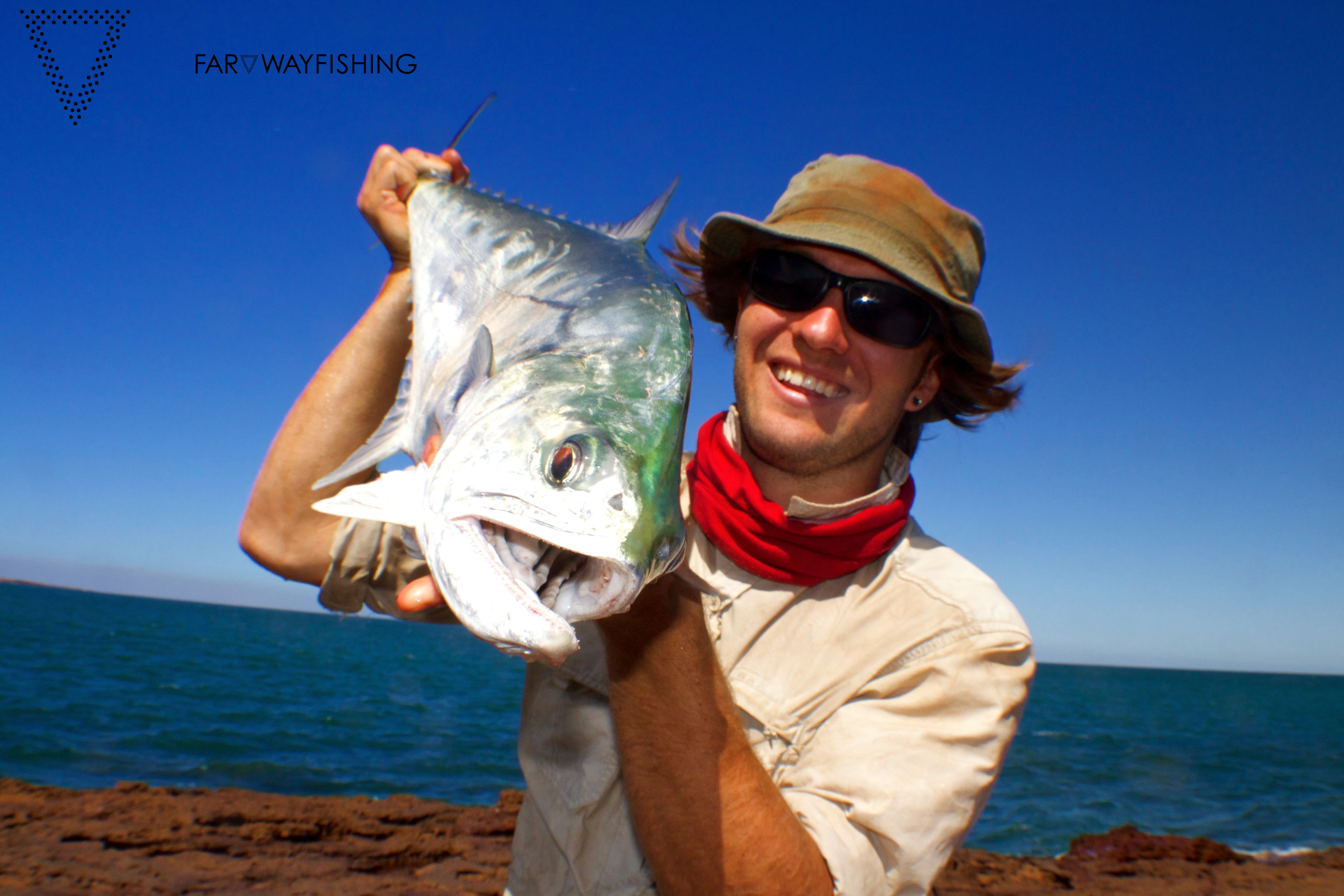 If you're willing to pardon the punn there is a plenty of stories to come out of the Broome closet.
Broome is located on the North western shoulder of Australia. Around 500 k's north east of Port Headland and 1650 k's west of Darwin.
Whilst there is still a very real and present danger from oversized handbags, I was thrilled to be in an area that finally moves you away from and lowers the risk of saltwater crocodile encounters, though, it does put you smack bang in the middle of shark territory.
My first impressions of Broome is that it is a beautiful coastal town that offers everything that major centres can offer such as hospitals and schools through to major supermarkets and fishing tackle stores. On the other hand, a short 20 minute drive north of Broome has us travelling on the Beagle bay-Broome road up the Dampier Peninsula.
It doesn't take a great deal of effort to get into the red dirt roads that this part of the world is famous for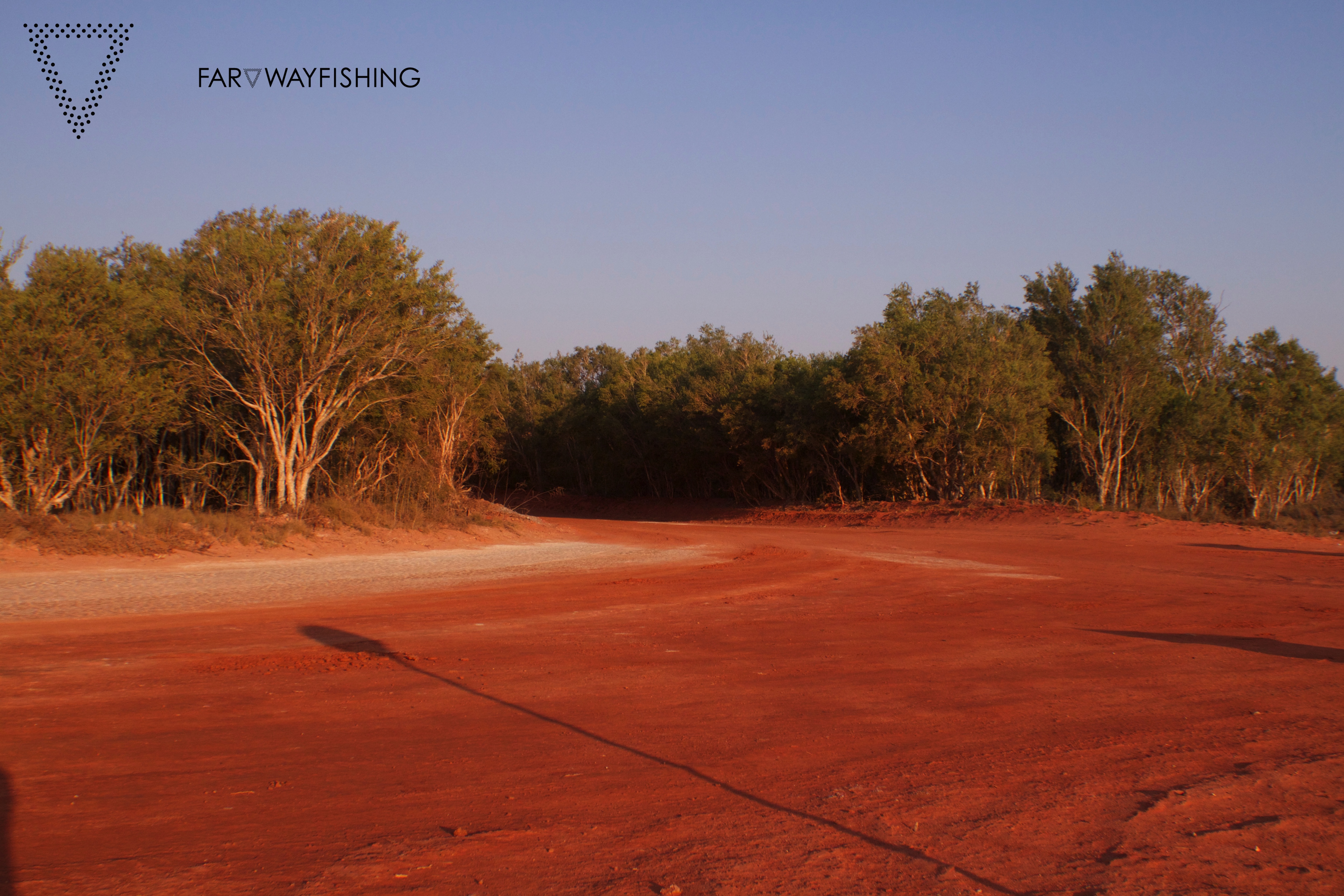 and even better once those roads end and turn into pure white sand and turkey water.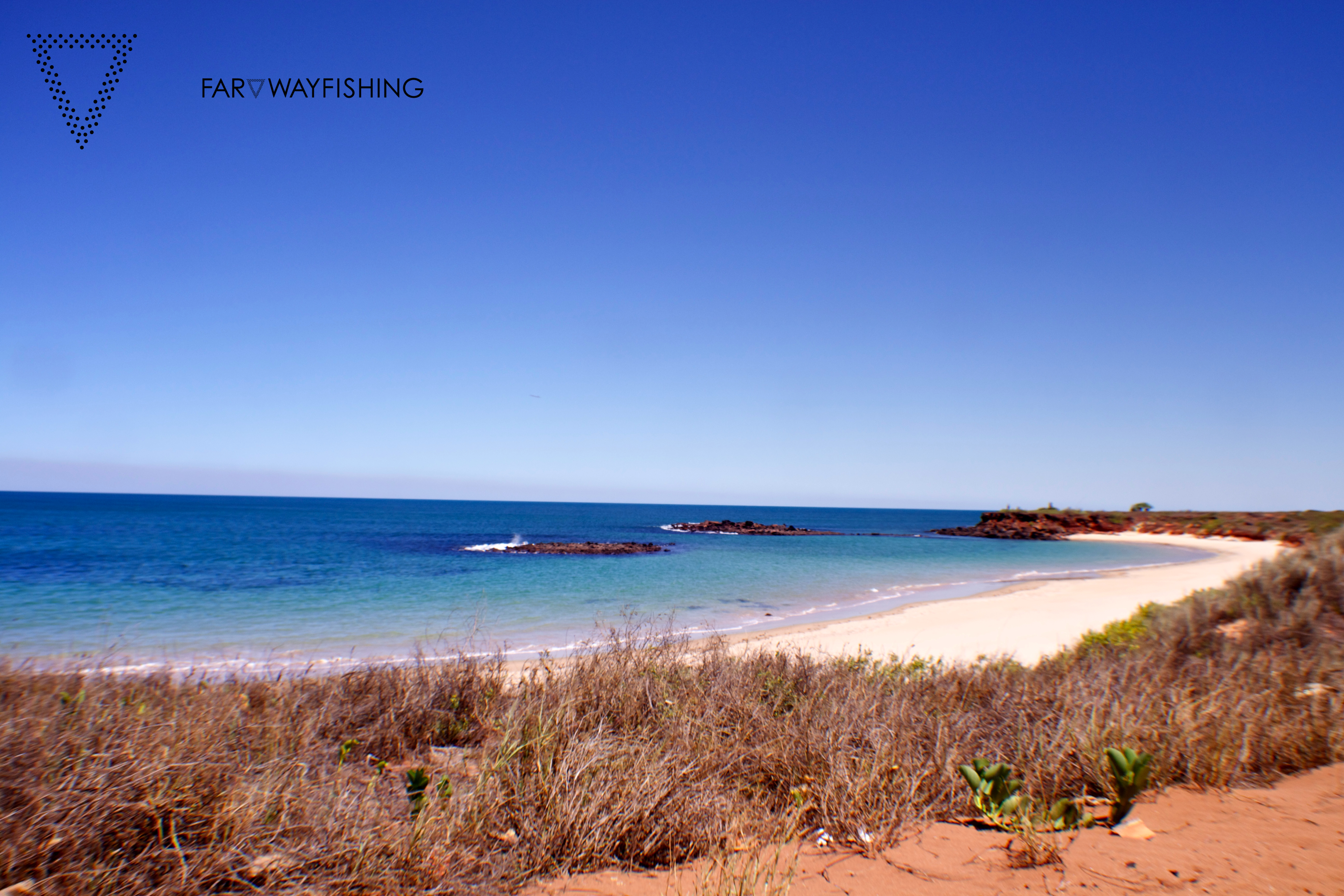 On our journey north we said goodbye to any trees larger than the average person and said hello to huge tides, crystal clear water, snorkelling and unadulterated sunshine backed with blue skies and for the first time in a long time-seaguls.
We had planned our trip through the north west of Western Australia in the winter months/dry season. Forgetting the roads, a combination of vicious heat and  lathering humidity that the build up delivers in this part of the world can really be enough to sap you of energy.
The road in, whilst very navigable and not overly rough (caravans and boats do fine in the dry) does have soft patches every now and again. We were only just discussing how easily we could come unstuck if we hit some sand at speed before we came across an accident.
A group of three men at the back of a convoy of three cars headed away for a work bonding long weekend fishing trip had rolled their troop carrier. It appears as though the passenger rear wheel had come clean off. A frightening thought considering we had also just lost a wheel in El Questro and these tyres (not unlike ours) had only just been professionally fitted.
Don't overload roof baskets and always drive at a safe speed is pretty sound advice but nothing could have really prepared the unfortunate driver for the pile of wreckage that his pride and joy land cruiser was to become.
We hung around in the late afternoon on the red dirt road helping to direct traffic and clean the wreckage from the road. Luckily, a tour operator and an anonymous driver stopped and took the three occupants to hospital. Shortly after we were joined by the other members of the convoy.
We all helped to clean the car that was surely going to be picked clean of any useful parts by the morning and as a reward, the movers and shakers told us to collect whatever food and drinks we wanted and take them. A real treat to a couple of broke, hungry travellers!
Once we made it to the peninsula, we chose a campground and I started exploring. There are plenty to choose from with some free camps on the south western side of the peninsula though once you head north you will pay about $15 per night-per person for most camps. On the first night we decided to stay at a free camp called Quondong point.
A rocky outcrop lie at the bottom of a surfy beach with the smell of sea air a reuniting pleasure. At night the shear amount of hermit crabs was quite amazing. Come day break, the soft red sands were entirely covered in tracks where these industrious and curious crustaceans had taken their calcified caravans all across the roads in search of food.
After spending the following 3 days at Middle lagoon, I can tell you that this place is well worth a visit.
Middle Lagoon along with the Buccaneer Archipelago is the stuff Aussie postcards are made of. Clear blue skies with piercing sunshine that streams down in a transparent golden haze all day long, feather soft bleach white sand, earthy red dirt cliffs and the sound of the ocean repeating at your doorstep.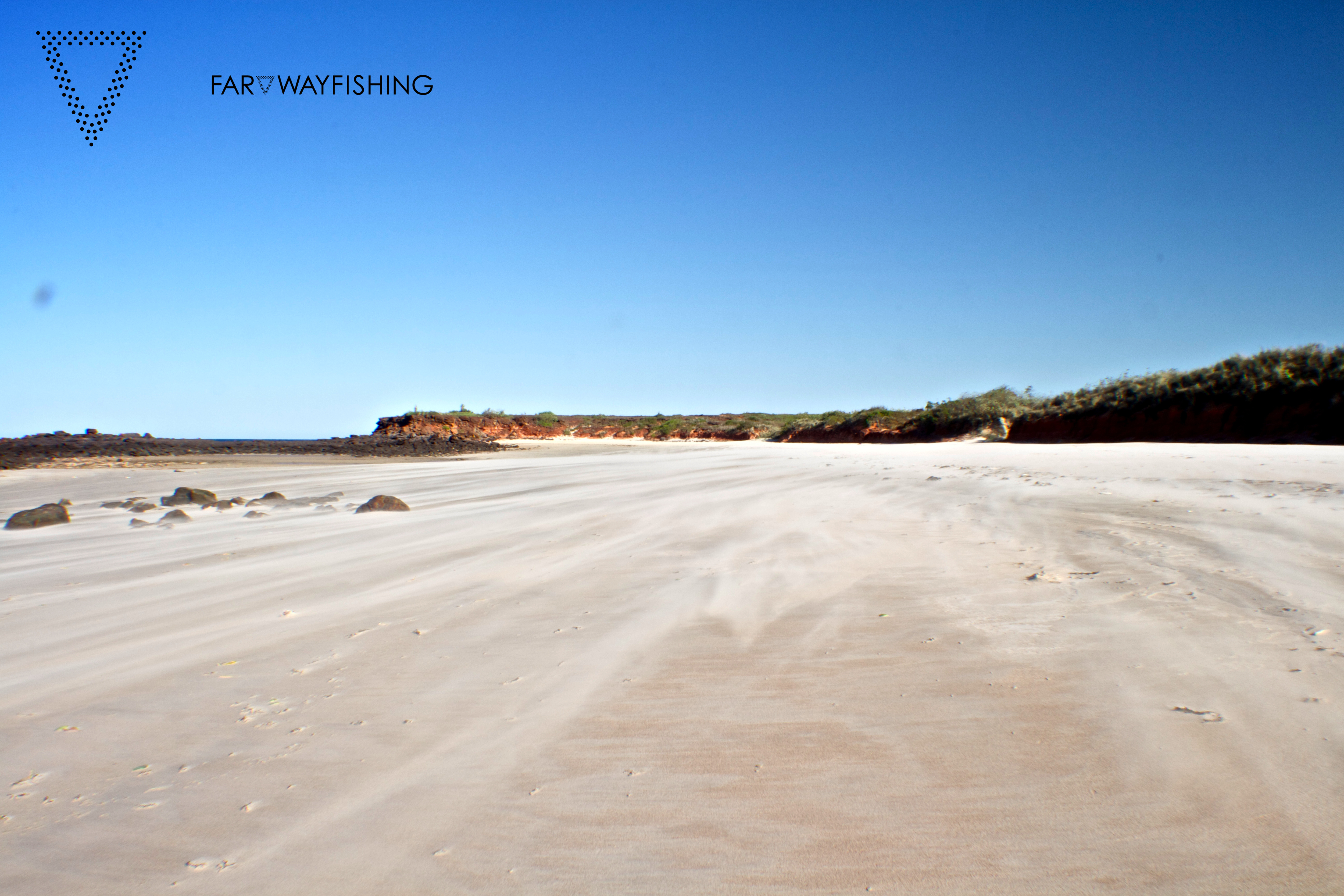 The tides in this area can reach up to 9 metres and outrunning the water on foot or on a boat can be precarious. Though, as the old adage goes; "no run=no fun".
If you don't have a boat, strap on some rock boots and start walking. I chose to explore the areas around Middle Lagoon almost entirely on foot even though we had Lady Kay in the water.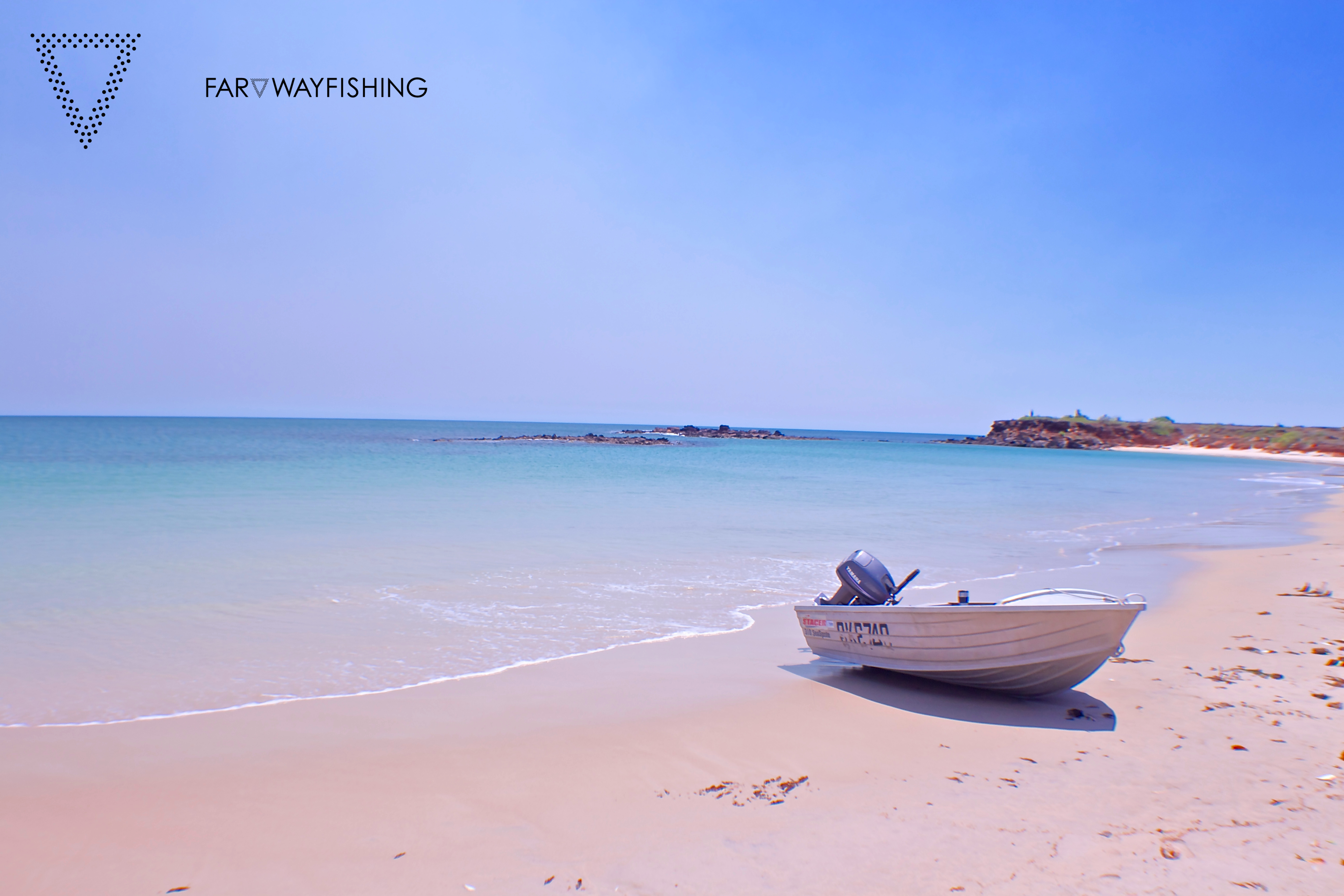 The land based game in this area is best fished on a making/full tide. When the tide pours across the rocks it creates huge currents some I estimate to be about 4 or 5 knots. I knew that predatory fish love these conditions and on a red letter day like I was lucky enough to have, I felt like every cast was a potential hook up.
I loaded up my Generation black-black sniper with 40lbs sun line fluorocarbon trace and put on the new Departure+co outbound 110. These are a sinking stick bait with a hard shimmy on the drop.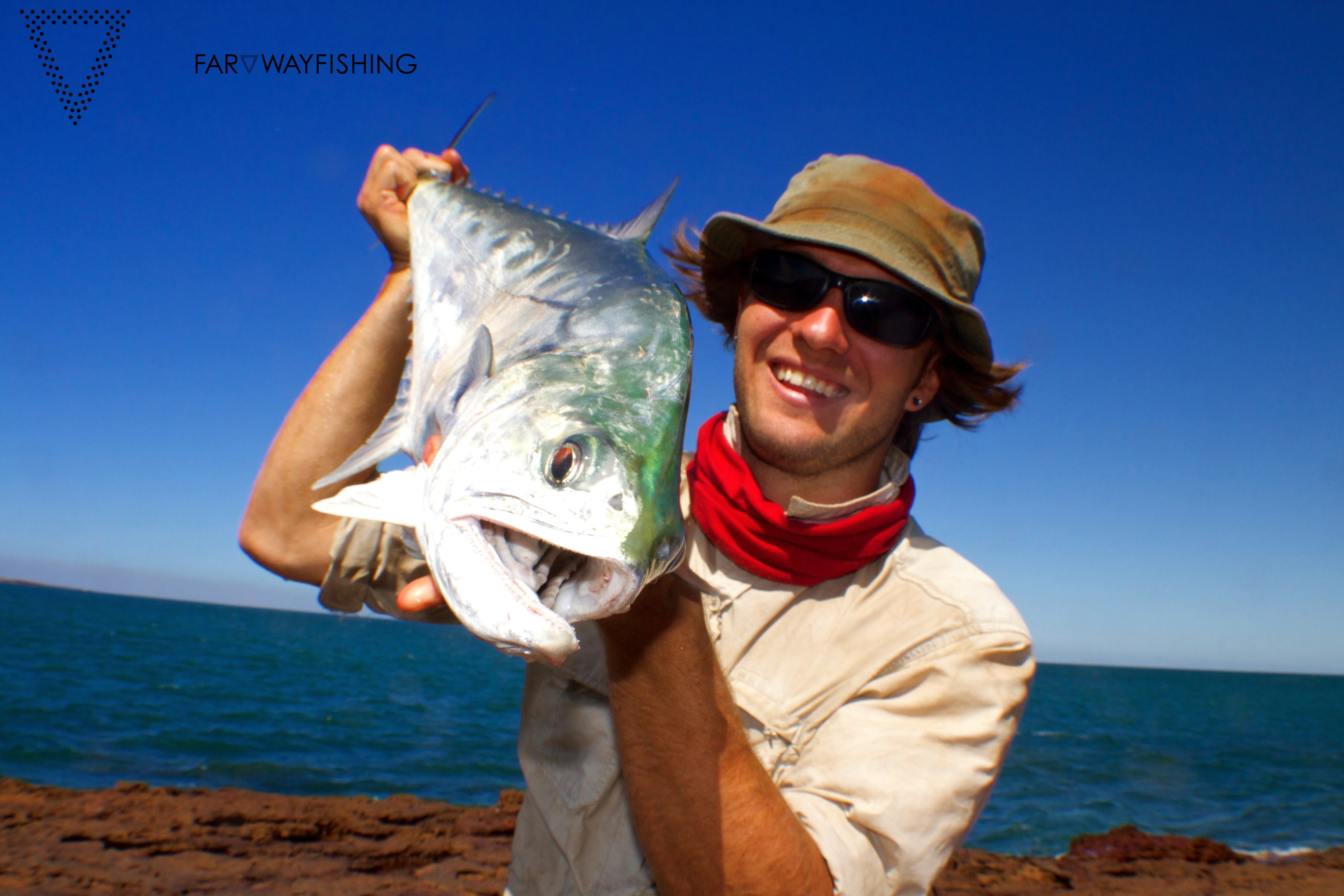 I made my way toward the outer most point of the rocks I could reach and with a 30 knot morning breeze at my back, launching these aerodynamic stick baits 100 yards out to sea was no problem.
I witnessed one of the most spectacular takes I have ever to date. As my stick bait landed I viciously worked it across the top of a submerged tidal rock that I could see an upwelling on with my binoculars. All be it, the fish was a Barracuda (not exactly the most prestigious or hard fighting of pelagic fishes) but this fish put on a show. Leaping what I estimate to be nearly 6 feet clear of the azure depths to engulf my lure, it grinned its canine like teeth at me as it descended back toward the white wash beneath it.
We spotted Tuna (long tails, yellowfin and Mac Tuna all hooked), Queenfish in droves, Barracuda, Giant, Golden, Tea-leaf and Big eye trevally as well as Spanish Mackerel and even Anak Permit off the rocks on the sandy sections of the reef. Though, all of our fish sightings would lead you to believe that it was all beer and skittles. We weren't to know that our biggest issue was stopping the taxman from claiming every prize we thought we had won.
It seemed an almost impossible task. Everytime we would look to each other, lean back on our rods and scream "yep!" we would soon feel a shudder through the graphite that only envokes a chill and disappointment throughout your shattered confidence.
After a while, we began to take guess's at how many sharks were tearing our fish apart based just on how violently the rod was behaving.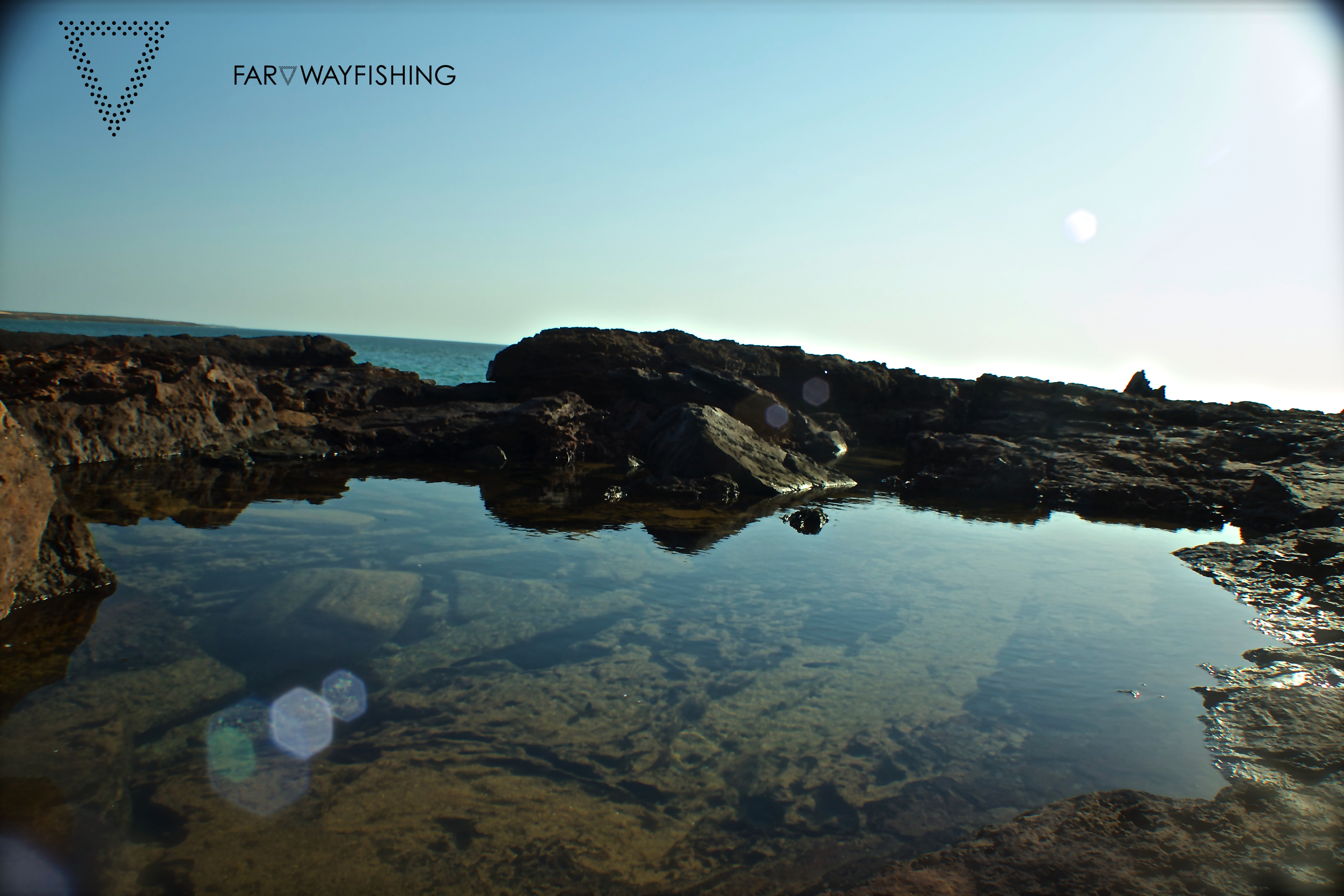 After landing only a Barracuda, a few Queenfish, a few varieties of trevally and a mixed bag of dimersals with the occasional and ever present Long-tom thrown in, we decided it was time to unleash the beast…
We put Lady Kay in the water and took off out to sea hoping that the cobalt blue abyss awaiting would allow us to actually boat a fish.
Tim with his 8000 size stradic in hand was ready to do battle and it took hardly anytime before his laser pro was scoffed by a hungry Yellowfin tuna feeding amongst some Bonito.
When these fish hit- you strap yourself in and feel the cheese. We got a quick glimpse at this fish before we again angered the gods. "Thud, thud, thud" was all that seemed to keep happening as we both pleaded for the end to this bizarre form of abuse that was the local shark population.
We returned to the shore, full of character building funny stories though less lures, less flys, less energy and less fish for dinner. All in all we needed a cold beer to go with those lentils for tea. Bless that camp fridge.
The next day, dejected and lacking in confidence, our German ride sharer and adventurer Jessi demanded that we pick ourselves up and head back out, though, on this occasion she was going to don one of Tim's over sized and caramelised fishing shirts and do the hard yakker herself.
The fishing wasn't as hot as previously but once when we spotted a school of Queenfish making follows from deep down we decided to troll of the edge of the reef with a deep diving scorpion.
Though her first pelagic fishing experience started with "Achtung shiza!" It didn't take long before this spritely young lass was pumping and winding like she had been doing it her whole life and made it look even easier when she slid her fingers under the operculum of her first queenfish and asked "why haven't you got the camera ready?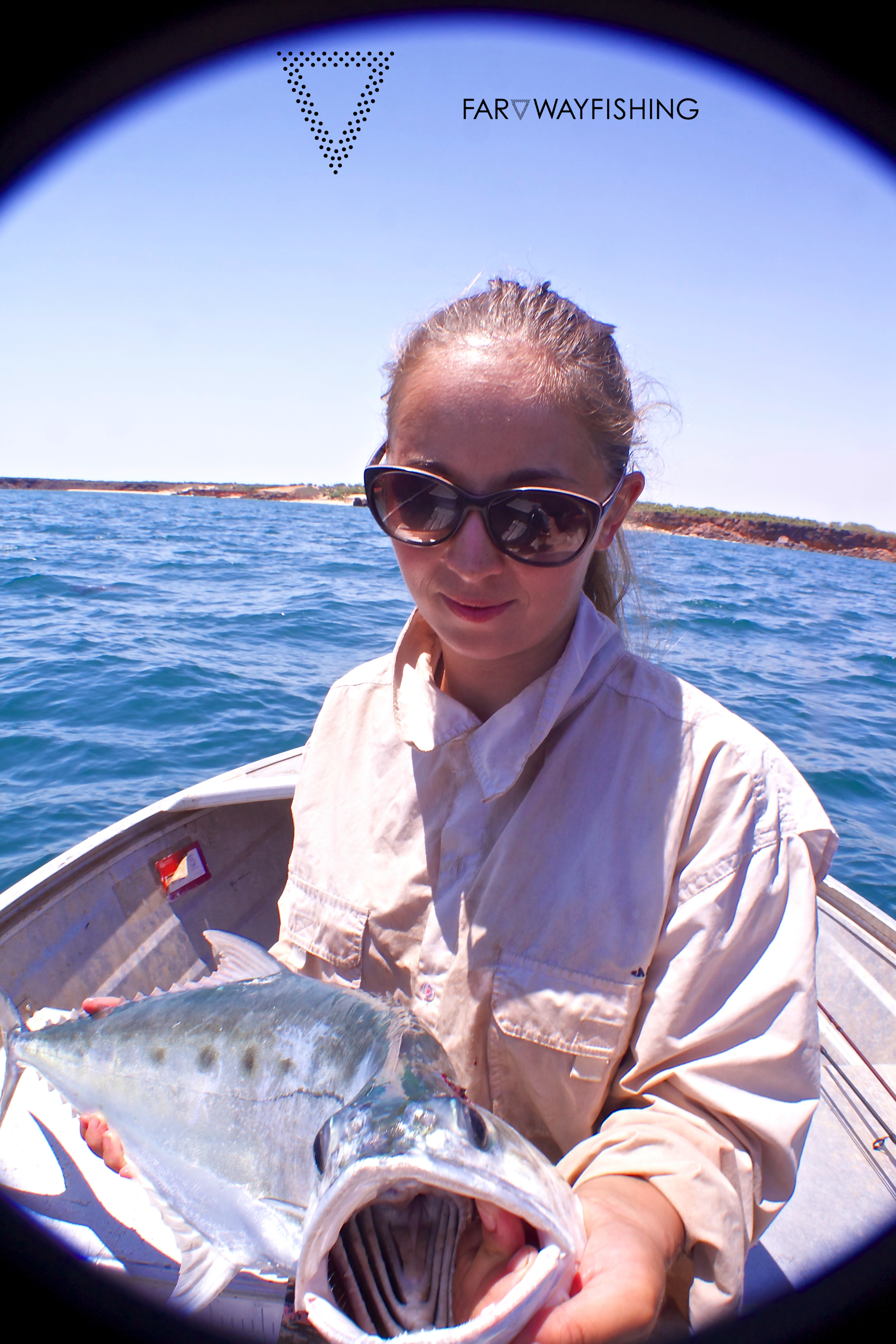 We packed up camp and made tracks for out next destination where I was to go in search of the elusive Permit…
In our 20 000 kilometres around the country so far, Tim and I had both agreed that this part of the country is a must see and in our top 3 for the trip so far.
I have heard a very prominent trout fisherman from Tasmania lament that every tropical island is just like the next. Whilst I heartily disagree its also fair to say that should you visit this part of the world-your senses will run a muck with the pleasure of it all.